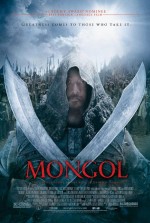 2007 // Russia - Germany - Kazakhstan // Sergei Bodrov // July 6, 2008 // Theatrical Print
C - Mongol is far too mediocre a film, given its ambitions. It purports to be "The Untold Story of the Genghis Khan's Rise to Power". Whether this tale of the man who would be Genghis—here still called Temudjin—was truly "untold" until now or just unfamiliar to Western audiences, I can't say. Regardless, it's clear that director Sergei Bodrov wants his film to be a grandiose period epic in the vein of Braveheart or Gladiator, with all the cheesy mythologizing that entails. Yet even in this, Mongol stumbles. The film's luscious look and generally warm, mature treatment of its characters can't conceal the incoherence or tedium of its story. Furthermore, Mongol delivers almost no fresh insight into one of history's Great Men, a nagging flaw in light of how forcefully the film trumpets its "untold" character.
In the opening scenes of Mongol, we are permitted a brief glimpse of an adult Temudjin (Tadanobu Asano) as a haggard prisoner, before we whipsaw back to the Khan's childhood. The young Temudjin (Odnyam Odsuren) and his father (Ba Sen) journey to meet with a rival clan, from which the boy is supposed to select his future bride and seal a sorely needed alliance. While under the hospitality of a weaker clan, however, Temudjin jumps the gun and chooses a local girl, Börtee (Bayertsetseg Erdenebat), who incidentally egged the boy into his hasty bit of defiance. This decision echoes throughout the rest of the film, but of more urgent concern is yet another clan's fatal poisoning of Temudjin's father. A kinsmen uses the opportunity to seize power and Temudjin's herds. Mongol tradition apparently forbids the traitor from slaying the boy outright, so he enslaves Temudjin and vows to execute him when he reaches adulthood.
This pretty much sets up the rest of the film, which is one, long, exhausting, disjointed succession of escapes, chases, imprisonments, skirmishes, battles, reunions, reversals, and so forth. I'm of two minds about this. On the one hand, the whole enterprise is skillfully shot, and certainly entertaining in the moment. The film delivers the minimal requirements for an historical epic: melodrama, action, and period detail. The problem is that Mongol is entirely forgettable—not because it's a bad film, but because it doesn't have much interest in being memorable. Sure, the romantic storyline between Temudjin and the adult Börte (Khulan Chuluun) is bittersweet and touching, and the action sequences are suitably swift and savage. However, I have trouble recalling one genuinely outstanding moment in the film.
This seems at odds with Mongol's apparent aspirations for penetrating historic revelation. The banality of the film's genre furnishings might have been less disappointing if the filmmakers had given the audience something else to work with. I was hoping for some insight into the conqueror that Temudjin would one day become. No such luck. To be sure, Asano glares with unsettling calm, and he effectively portrays the Khan as a wolfish outcast with a clinging whiff of destiny. Indeed, all of Mongol's performers shine, narrowly evading the camp indulgences that usually bedevil the genre. Yet there's a sense of lost opportunity in the film's treatment of Temudjin. Through Mongol's lens, we learn of the man's cool individualism and his ambivalence about others' opinions. We witness his dogged loyalty to his pledged bride, and his often irrational pursuit of an idealized family life even as he gathers loyal horsemen for his horde. There are all sorts of contradictions at work in the portrayal, but Bodrov fumbles them, settling for ambiguity and mistaking it for complexity. Meanwhile, the film is always straining with awkward hindsight to meet up with the notorious Khan of history. The overall impression is: "Huh. That Genghis was one odd badass." It's not exactly Lawrence of Arabia.
I don't want to undersell the satisfaction of seeing a neatly executed Mongol epic. The film engages on its own (paper-thin) terms. Surprisingly, its most affecting sequences are also its quietest. Witnessing Temudjin's friendship with another warlord slowly sour and boil into violence is one of Mongol's chief pleasures, especially because its tragedy seems to rest solely on the incompatibility of the two men's ambitions. In its best moments, the film almost succeeds in painting Temudjin as an alien rebel, whose greatness was less a product of destiny than of his peculiar, unbowed personality. Sadly, the distractions of vaguely sketched motivations and generally confused storytelling scuttle Mongol's potential for greatness. The gorgeous steppe landscapes and somber throat singing on the film's soundtrack emerge as mere Mongolian trimmings on a fairly typical exercise in big-budget epic sameness.