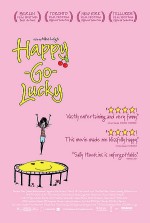 Manic Pixie Dream-Girl
2008 // UK // Mike Leigh // November 11, 2008 // Theatrical Print
B - Mike Leigh's Happy-Go-Lucky is a slippery little film, a work that appears—at first glance—to rest on the spritely shoulders of one Poppy Cross, as portrayed with rabbit-punch wit and astonishing texture by Sally Hawkins. Indeed, Hawkins is undeniably the blazing celestial orb of positivity of this slice-of-life dramatic comedy. Making Sally Hawkins charming is an amateur's trick, demanding nothing more than attiring her in "crazy" outfits and letting her goggle and guffaw through a flurry of sitcom scenarios. (Driving lessons! Visiting her sister! Flamenco class!) However, Leigh's magic lies in the way he shifts our attention from Poppy to the world around her, never mind how enchanting a heroine she might be. Quite improbably—and in spite of her saccharine eccentricities—Poppy emerges as a rounded character, one who permits us a bit of projection for our own everyday tribulations. Shock of shocks, before long we realize that Happy-Go-Lucky is not merely touting the power of optimism, but calling our attention to the ley-lines of misery that flow between annoyances, social ugliness, and outright tragedies.
Poppy is a middle-school teacher in London, a thirtysomething who takes pleasure in her job and her small circle of acerbic chums. Inventorying Poppy's spirited, not-quite-oddball lifestyle reveals a bit about her: weekends spent brainstorming projects for her class, drinking and dressing on nightclub crawls as if it's 1985, and bouncing on a trampoline to stay in shape. Thanks to Hawkins' overwhelming, remarkably delicate portrayal, what seems at first like an overdose of affected quirk evolves into a moving role that invites both adoration and reflection. Director Leigh evinces a sharp awareness of the sad, sexist cinematic trope of women like Poppy "rescuing" starched shirts far beneath their worth, if only in the sense that Happy-Go-Lucky is distinctly not such a film. It is Poppy's tale, and therefore about how she responds to a world of cruddy luck and hostile asses. She eventually encounters a man who she could be content with, but he—like all the other characters of Happy-Go-Lucky—dwells a little outside the camera's focal point. We can see what makes these people alluring or distressing in Poppy's eyes, but they also appear to have lives off-screen. It's refreshing to watch a film-maker build a convincing comedic landscape around a protagonist with such assurance and social perceptiveness.
There isn't much of a plot to Happy-Go-Lucky, strictly speaking. We follow Poppy for several weeks, and stuff happens to her, with some events entangling in a manner that exhibits Leigh's sensitivity to life's rhythms and uncanny juxtapositions. The film thrusts no climactic crises on Poppy, at least in the conventional screenwriting sense, nor any oh-so-convenient triggers for a seismic shift in her outlook. She confronts problems and has a couple of scary moments, but these eventually reveal themselves to be frightening for what they suggest about the world, not for any lasting harm they might do to our plucky protagonist. Poppy essentially remains the same from opening credits to final shot. The narrative motion of Happy-Go-Lucky occurs in the world outside her door, revealing a landscape far more unpleasant than she (or us) could have envisioned, a world choking on its own anger. Perhaps this is why Leigh conjures for us a Pollyanna of such determined sparkle. Only with her as our bouncing beacon could we ever break through the thick haze of stupidity, heartbreak, and bigotry that blankets modern life. Much of the cunning appeal of Hawkins' performance is that she never attracts our envy or resentment. Her performance is not in any sense one-note or grating, although it seems for all the world as though it should be. Hawkins and Leigh offer a Poppy that is at times terrified, confused, or melancholy, almost always in the right dose to establish her authenticity.
In short, this is a film that is all about a performance, and what the director does with that performance. There's nothing particularly head-turning in Happy-Go-Lucky's visual language, and the film admittedly suffers from some uneven pacing and editing that unnecessarily clouds the passage of time. These problems don't seem particularly bothersome, however, given how Hawkins so deftly orients the viewer from scene to scene with her portrayal. Leigh, notorious for evolving his films through improvisation, captures golden moments that play out with both naturalism and precision. Hawkins and her fellow performers—particularly Aleixs Zegerman as roommate Zoe and Samuel Roukin as school counselor Tim—find a witty, endearing rhythm. These social wonderments are Happy-Go-Lucky's most conspicuous ornaments, but the dramatic potency of the film lies in Leigh's determination to make a film featuring a happy protagonist that is primarily about unhappiness. Rather than yanking Poppy to and fro with a locomotive story, Leigh relies on her as a resilient observer, one whom we don't mind dawdling with. With us peering over her shoulder, Poppy takes a hard look at her own understanding of the origins of fear, anger, and despair. She comes to no grand revelations, but she discovers a world more rotten than she expected. How tragic! How much more essential, then, that Poppy fill her life with laughter instead of bitterness. Now that I'm at the end, I can see why the appeal of Happy-Go-Lucky is so simple: It states the obvious with glorious warmth.