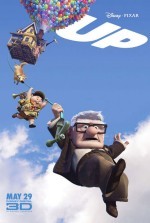 Oh, The Places You'll Go!
2009 // USA // Pete Docter // June 18, 2009 // 3D Theatrical Print
A- -One of the most pleasurable aspects of Pixar's rise to the artistic apex of American commercial cinema has been the expanding sophistication of the themes that the studio is willing, even eager, to tackle. That sophistication reached its pinnacle to date in last year's WALL•E, an unexpectedly stirring film experience that addressed myriad science fiction concerns with a grace, liveliness, and humor unmatched by any genre offering in recent decades. This trend—the studio's determination to make the most challenging kid-friendly fare the public will accept—first emerged with Monsters, Inc., so it should come as little shock that that film's director, Pete Docter, has delivered yet another feature whose breathtaking surface conceals deep currents. If Up feels slightly less groundbreaking than Pixar's recent offerings in terms of sensory dazzle, perhaps that's because the comparison is so monstrously unfair. Standing alongside the virtuoso direction and cinematography of Ratatouille, or the futurist vistas and elegant storytelling of WALL•E, Up is merely marvelous, rather than devastatingly marvelous. However, Docter delivers what is the studio's most essentially human story since Monsters, and certainly its most mature in terms of its psychological resonance. Woven into a relatively straightforward tale of adventure, Up offers a poignant examination of how the reality of everyday life can gnaw at our dreams and seed cynicism in our hearts, tragically hardening us to the possibility of emotional connections with other people.
Up breaks from Pixar's previous features in that its high-concept enticements are not easily reducible to a one-word description (Toys! Bugs! Monsters! Fish! Superheroes! Cars! Rats! Robots!) Although strange creatures are central to the story, Up's hook is visual: the image of a tidy little house drifting through the wild blue yonder, suspended under a colossal cluster of rainbow-hued balloons. The owner of that airborne domicile is Carl Fredericksen (Ed Asner), a dour septuagenarian with a mug like a squashed and swollen Easter Island statue. Explaining why a retired schlub like Carl would transform his house into an airship comprises only the first thirty minutes or so of Up, but it's a deeply affecting slice of cinema, not as crisp as WALL•E's perfect first act, but more narratively and emotionally propulsive.
We are introduced to Carl as a shy and bespectacled child of a pulp-tinged 1930s America. Capering about in flight helmet and aviator goggles, he dreams of grand adventures like those of his idol, Charles Muntz, a dashing explorer, inventor, and zeppelin pilot. Muntz has recently departed on his latest foray to Paradise Falls in South America, where he hopes to capture a rare, enormous bird with the aid of his loyal hounds. While playing around his neighborhood, Carl runs afoul of Ellie, a tomboy whose zeal for adventure is, if anything, even more fervent than his. Ellie confides her ambitions: to follow in Muntz's footsteps and one day live at the top of Paradise Falls (South America is "like America, but South," she intones seriously.) In a deft sequence of cinematic exposition, the film then fast-forwards through time, looking in on Carl and Ellie as they eventually fall in love, get married, and share decades of bliss and heartbreak, the latter embodied in the childlessness that biology foists upon them. The promise of Paradise Falls continues to beckon, but the inconveniences and setbacks that so often characterize life curtail their plans time and again over the decades. Eventually illness claims Ellie, and Carl is left widowed and ruing the adventures they never had together.
In the present day, Carl is embroiled in a battle with the stock cinematic menace of elderly homeowners everywhere: greedy developers. Also lurking on his doorstep is the ovoid Russell (Jordan Nagai), an enthusiastic tyke who needs a willing subject for his Elderly Assistance merit badge, the last notch on his path to Senior Wilderness Explorer. After things go from bad to worse with the developers, Carl hatches and implements his aeronautical scheme seemingly overnight, promising his departed wife that they will get to Paradise Falls yet. With a groan of heaving foundation and bursting pipes, Carl's house breaks free and he is South America-bound... with Russell inadvertently along for the ride. Where the pair go from there is best left for the viewer to experience, but I will say it involves Muntz's avian quarry and a pack of talking dogs. Yes, talking dogs, a trick accomplished through electronic collars that broadcast their every thought. (For a dimwitted mutt named Dug, this mainly consists of "I love you!" and "Squirrel!")
Once Carl and Russell are airborne, Up is dotted liberally with various chase sequences, smartly executed but not especially salient to the film's core emotional notes. (In this, the film mirror's WALL•E's breathless yet somewhat conventional sequence of escapes following the action's shift to the Axiom.) Up is most marvelous in its quietest moments, when it gently and persuasively permits Carl's grief and regret to bubble up to the surface, and Russell's own familial anxieties to be given voice. The film pointedly implicates Carl's lifetime accumulation of disappointments as a blinding phenomenon, one that prevents him from recognizing the everyday miracles of his life with Ellie, or seeing Russel's palpable craving for small, paternal intimacies. Recall that this is ostensibly a children's film, and it is all the more remarkable that Docter fixes his attention on the risks of emotional stagnation that can characterize old age. Like WALL•E, Up is thematically dense fare. The former expanded our sensitivity to a galaxy of ideas about humanity, technology, and the environment. In contrast, Docter's film turns its gaze inward to plum how our achievements and failures color our outlook, particularly our receptivity to the needs of others.
Perhaps Up's most unexpected and deliriously elemental accomplishment is its pinpoint evocation of a specific childhood urge to remake our surroundings according to whims that are fantastical, yet somehow reasonable. Many of Up's set pieces resonate with that youthful longing for secret hideouts, dream houses, custom rocketships, and other wonders constructed according to Crayola principles of engineering. While nothing within Up exactly embodies these imaginary havens—there's nothing close to the riot of plastic glee that was Pee-wee Herman's magnificent abode in his Big Adventure—the film echoes them just enough to prick the viewer's dormant longings for a special place crafted in tribute to shameless desires. It goes without saying that a house cannot fly under the power of helium balloons, but using balloons to fly off to a tropical Shangri-la is giddily reminiscent of the elaborate yet simple-minded schemes we all dreamed up at a certain age. (Carl and Ellie go so far as to place their own crayon drawing of the house at Paradise Falls on their mantle, enshrining their shared childhood dream as a sort of domestic snapshot not yet taken.) Who wouldn't want to camp in the rainforest with chocolate bars and animal pals? Or be waited on by talking canines that can serve dinner and fly airplanes? It's Docter's cunning decision to evoke this aura of splendid daydreams—the promise, if you will, of chewy, chewy cocoa-beans and monkey butlers—that makes Up so engaging. Moreover, this impulse acts as a potent counterpoint to the lines of sorrow and disillusionment that crease the film's heart. Up asserts that sharing the most innocent pleasures with kindred souls is a balm that, improbably, miraculously, cools the sting of loss.