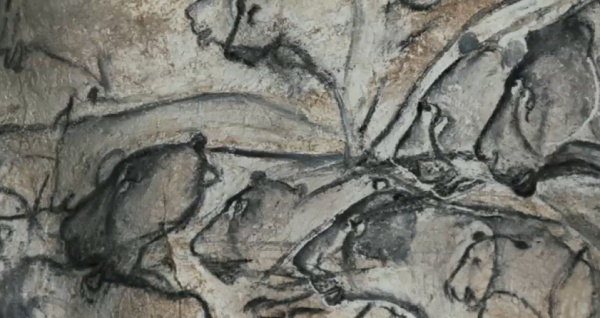 2010 // USA // Werner Herzog // May 11, 2011 // 3D Digital Projection (Hi-Pointe Theater)
A feature documentary about the 32,000-year-old paintings within Chauvet Cave near Vallon-Pont-d'Arc, France is almost guaranteed to contain abundant gawking at the archaeological wonders on display, as well as wooly speculation on the site's lingering scientific mysteries. A Werner Herzog documentary about the same topic also promises genuine cinema, as well as a slightly askew consideration of the profound thematic concerns that the director typically espies in any protracted consideration of the natural (or human-made) world.
In this respect, Cave of Forgotten Dreams delivers exquisitely. Granted, when the subject is the oldest cave paintings on Earth, the purple philosophical musings practically write themselves. Heck, the themes are all standing around in plain sight: the essence of human nature, the function of artistic representation, and the relative opacity or porosity of time and space. Still, there's something gratifying in allowing Herzog's delicious German cadences to guide us through Chauvet's wonders, although his characteristically loopy interjections and ruminations are, as usual, a matter of taste. (Referring to the hundreds of thousand of spatial data points used to map the cave, Herzog queries a geologist, "Do they dream?")
It's admittedly remarkable how much detail one can discern from the HD digital footage of the cave's pristine, phantasmagorical spaces, especially given the severe constraints placed on the crew in terms of equipment and access. Herzog's discipline as a documentarian and the 3D element both reveal their merits in the film's long, glacial pans of the paintings, set to Ernst Reijseger's evocative original score. For great lengths of the film, the viewer is simply invited to gaze on the paintings and dwell on their meaning: for the Paleolithic artist, for themselves, and for the human race as a whole. The 3D photography superbly captures the complex curvature of the rock faces, conveying the astonishing manner in which the artists utilized the spatial nature of their medium to create depth, motion, and narrative. While the new film doesn't attain the intellectual sophistication or provocations of his late masterpieces Grizzly Man or Encounters at the End of the World, this film still exhibits Herzog the documentarian at the top of his game.