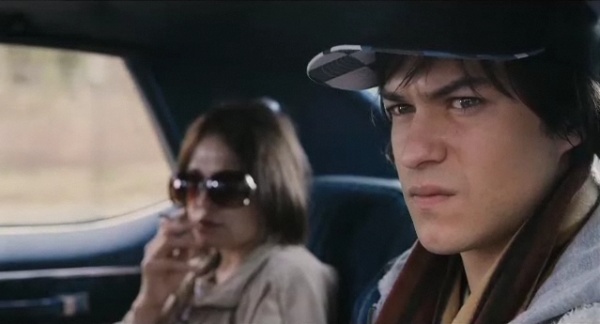 2010 // France // Jean-Paul Salomé // July 14, 2011 // Theatrical Print (Landmark Theaters Plaza Frontenac Cinema)
Jean-Paul Salomé's fictionalized tale of notorious French imposter Frédéric Bourdin might have been a more satisfactory and engaging film had the director and co-writer Natalie Carter allowed their bolder proclivities to run wild. Instead, The Chameleon is just graceless and drowsy, albeit oddly aware of the psychologically probative potential in Bourdin's attempt to pass himself off as missing American teenager Nicholas Randall. There are rumblings that the film was taken away from Salomé to be sliced-and-diced by the producers, a rumor supported by the often jarring editing. However, there are plenty of other factors working against the film: a thin budget revealed by visibly shoddy set design; a flat, indifferent movie-of-the-week visual aesthetic; and a meandering script peppered with sophomoric dialog. In places, the ugly, run-down quality to the film's look works in its favor, providing a dose of corroded and sun-faded verisimilitude to the Louisiana setting. (Shades of Bad Lieutenant - Port of Call: New Orleans there.) However, most of the time, the film's look is just dull.
The actors don't help the proceedings, as they all seem to exist in different films. Ellen Barkin and Nick Stahl go for Southern-fried grotesque, while Famke Janssen plays things straight as an FBI agent with a laughably hackneyed backstory. Emilie de Ravin is, well, Emilie de Ravin, which means most of her acting consists of grimacing so that the spot where her eyebrows meet crinkles in alleged confusion or anger. Marc-André Grondin's approach to Bourdin is to veer arbitrarily between cringing doofus--fanny-pack and all--and delinquent hothead, while throwing a creepy leer here and there to reassure the viewer that Bourdin is, in fact, a globe-trotting conman. This all-over-the-map aspect to the performances is fitting, given how much trouble Salomé has handling the vague narrative. He is clearly fascinated with Bourdin's craving for love (or, less charitably, attention), rather than the money or adrenaline that drives other imposters, and the script plainly wants to utilize the probable murder of the real Nicholas to wedge open Bourdin's mercurial mind and expose it for examination. Except that these two components--the con and the murder--just end up slipping past each other most of the time. What we get is an annoyingly bland story about an international conman, into which a Faulkner-tinted tale of wickedness and secrets frequently intrudes. It's a flimsy patchwork, and ultimately forgettable.