Here we go. 2007 is officially over, and while we of course didn't get to see all the films we wanted from this year, the Cinephiles have cobbled together their Best of 2007 lists. To qualify for these lists, a film must have been released in American theaters between January 1 and December 31, 2007. Only wide, limited, or select city releases qualify. Films released on the film festival circuit or in other nations only in 2007 do not qualify. Participating Cinephiles submitted five unranked films selected as their favorites from 2007. Within each individual's list, the films are presented in alphabetical order.
Andrew's Top Five of 2007
The Assassination of Jesse James by the Coward Robert Ford
Andrew Dominnik's profound, majestic revisionist Western is one of those films that unexpectedly came together in all the right ways for me. The success of The Assassination lies in its innovative approach to the genre, daringly embraced and deftly executed. Dominnik reinvents the Western as a despairing, post-modern ballad, its breathtaking beauty lacerated with artifice and fatalistic, removed scrutiny. The result is a stimulating, marvelously effective work. Who would have thought that 160 lingering minutes of Brad Pitt and Casey Affleck swapping ominous dialogue would be the Western of the year? Full review here.
Death Proof
While Rodriguez gave us gleefully puerile thrills, Quentin Tarantino crafted his most mature film to date. More so that Jackie Brown or Kill Bill, Death Proof is a gloriously harrowing feminist fable. Sexual politics seen through a male funhouse prism, Death Proof is as socially conscious as any work from a mainstream director this year. Tarantino pulls off a spellbinding feat, blending wrenching suspense, hypnotic dialogue, and obsessive references, and then adding layers upon layers of provocative subtext. Death Proof is further confirmation that Tarantino is no slick, insincere appropriator, but a cunning commentator, a performance artist whose medium is all of film history.
No Country For Old Men
The debate over No Country rages, but I stand firmly in the camp that it is a new American classic. Joel and Ethan Coen have delivered a bold, mutinous contemporary Western that showcases their mastery of the medium. No Country wears the garb of a sharp, terrifying thriller, but this conceals something more ambitious. The moral terror of McCarthy's novel—which I have since devoured—comes bubbling through like a force of nature. Surrounded by superb actors, Tommy Lee Jones is the harrowed center of No Country, delivering one of the most affecting performances of his career. Full review here.
Ratatouille
Brad Bird spins a high concept for the Food Network enthusiast—"He's a rat, but he loves to cook!"—into endearing comedic gold. Ratatouille, Bird's third and best feature, testifies to his remarkable hybrid talent, fusing dazzling visual design, madcap spectacle, and astute storytelling. Cunningly inverting the Disney formula (here an animal protagonist and human comic ensemble, Ratatouille's sheer artistry hearkens back to the company's earliest animation shorts and features, a superb accomplishment in itself. And yet it also hits the humane comedy sweet spot by uncovering the touching and the truthful in outrageous situations.
Zodiac
With Zodiac, David Fincher not only creates a stark, remorseless thriller—possibly the best of the past decade—but reveals a mature command in his direction. Zodiac is both an arduous, time-lapse portrait of obsession, and an unequivocal rejoinder to every trite, tidily resolved police procedural. It's deliciously unconventional where it has every right not to be, and bristles with moments of dizzying terror. Mark Ruffalo as the shrewd, compelling Detective Toschi stands out amid several engrossing performances. Sweeping in scope but invested with clear-eyed focus, Zodiac delivers an unflinching rumination on mystery and violence in modern America.
Honorable Mentions: 12:08 East of Bucharest, Blame It on Fidel, The Diving Bell and the Butterfly, God Grew Tired of Us, Into Great Silence, Juno, Once, Persepolis
Andrew's Best Actors and Director of 2007
Best Performance by an Actor Tommy Lee Jones - No Country For Old Men
There were several top-tier lead performances by male actors this year, but none of them has haunted me like Tommy Lee Jones in No Country For Old Men. Sheriff Ed Tom Bell is such a comfortable role for Jones that it's tempting to dismiss his performance as natural typecasting and select a more revelatory turn (Casey Affleck in The Assassination of Jesse James) or a seductive low-key portrayal (Mark Ruffalo in Zodiac). Fundamentally, however, I come back to how Jones utilizes every speck of his formidable acting talent in each of Ed Tom's gestures and words, and how the result is at once completely believable and profoundly moving. I actually tear up just remembering the way that Jones delivers his closing monologue. It's a devastating performance from an American marvel.
Best Performance by an Actor (Runner-Up) Mircea Andreescu - 12:08 East of Bucharest
12:08 East to Bucharest was an unexpected delight, a stunningly shot and wonderfully acted Romanian satire. Although the more textured political commentary likely sailed over my American head, nearly all the laugh-out-loud moments in this film can be laid at the feet of Mircea Andreescu, who gives a luminous comedic performance as the dour yet childlike Emanoil Piscoci. Andreescu channels influences as diverse as Charles Chaplin and Paul Reubens, and absolutely steals the show. It's to his credit, then, that his presence is never distracting, but rather highlights the film's wry observations on revolution, memory, and self-aggrandizement.
Best Performance by an Actress Ashley Judd - Bug
Lately I've been thinking fondly of veteran Bollywood actor Tabu's turn as Ashima Ganguli in The Namesake, if only because it is a pinnacle performance in a strangely underrated film. Given those criteria, however, then I absolutely have to go with Ashley Judd as Agnes White in Bug. I've never had much of an opinion on Judd's acting chops, but her performance in William Friedkin's paranoid-schizophrenia freefall is just incredible. It's like watching a star coalesce from cosmic dust, swell into a burning orb, and collapse into a black hole, all in the space of two hours. It's a career-high role, and I can't honestly name a performance by a female actor this year that was more memorable.
Best Performance by an Actress (Runner-Up) Kelly Macdonald - No Country For Old Men
Judd aside, if there was one female actor who stood head and shoulders above the rest this year, it was Kelly Macdonald as Carla Jean Moss in No Country For Old Men. Surrounded by mythic performances from male actors, Macdonald carves out her own deep fissure in the bleak landscape of No Country, never less that utterly convincing as Carla Jean. Watching Macdonald, it's not just difficult to envision another actor in the role; it's damn near incomprehensible. Who knew that a Scottish actress could so perfectly embody the weariness and quivering resolve within a slip of Texan trailer trash?
Best Director David Fincher - Zodiac
It's tempting to pick Joel and Ethan Coen, given that No Country For Old Men is such an achievement, or Brad Bird, given that he needs more recognition for his brilliant storytelling. Yet even ten months after the release of Zodiac, 2007 was the year of David Fincher. Fincher has made some mediocre films and some great films, but Zodiac is his first brilliant film. Its success lies not just in Fincher's espresso-rich composition and legendary perfectionism, but in the plain fact that he takes what could have been a serviceable police procedural and elevates it into one of the finest American auteur films this year. Need proof that Fincher has emerged from the formidable, primal-scream shadows of Se7en and Fight Club? Witness how he conjures unbearable tension from nowhere during an interview in a breakroom, or how he makes the irrational fear of a dark basement so immediate and overpowering.
Libby's Top Five of 2007
The Diving Bell and the Butterfly
This is a beautiful, touching film. Jean-Dominique Bauby's story should be dreadfully depressing, Diving Bell presents it not as a handicapped man's story, but simply as a man's story. The movie is slow, but not boring. It was like a long hike in the woods. It may take some time, but every moment seems worthwhile. Julian Schnabel's direction is reliant on imagery, but for a story about a man depending upon imagination to survive, it seems right. Mathieu Amalric's performance made the movie for me. It is lovely and quiet, even when he is playing the playboy, pre-stroke Bauby.
Grindhouse
Deathproof is the superior film in my opinion. Critics were misguided when they regarded the dialogue as excessive. Tarantino is a dialogue master, and here he does not disappoint. The movie has an almost dangerous message about the power dynamics between women and men. Is it a healthy message? Not sure. Rodriguez's Planet Terror is pure cliché in the best sense. The bad guys and good guys are clearly drawn and do what you expect them to do, and yet the film still seems fresh and exciting. Rose McGowan as Cherry Darling is a fun heroine: deadpan, snarly, and courageous.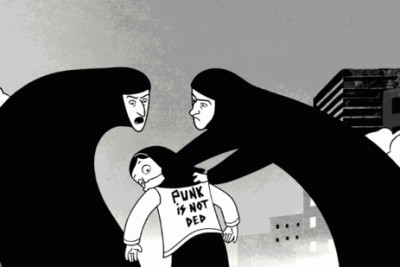 Persepolis
This movie is an inspiration. Marjane Satrapi's story is a fascinating one, not only due to the political struggles in Iran, but because she so beautifully intercuts those politics with her personal struggles. In Satrapi's story, the struggles of the Iranian people seem just as significant as her struggles to discover love, independence, and her place in the Western world.
Ratatouille
I kept thinking about this cute little cartoon about rats that cook. Ratatouille was just... lovely. Brad Bird's flair for animation is something I've loved since his early days with The Simpsons, so I knew it would be beautiful to watch. Here it is masterful. The artistry is astounding! The voice acting was superb, with Brad Garrett as Gusteau being my favorite performance. The humor was authentic without being juvenile, and the music was beautiful. This movie was just joyous to watch.
Sweeney Todd: The Demon Barber of Fleet Street
Watching Johnny Depp sing a ballad about regret while slicing throats open to a deluge of candy-red blood was a singularly satisfying sight, and a great way to begin my Christmas holiday. It's not just the Burton-Depp combo that makes this movie great, but it's all the gory details. The muted palate brightened by blood, the searing look in Depp's eyes throughout, Sascha Baron-Cohen's snake Pirelli, and Helena Bonham-Carter's chirpy-yet-dangerous Mrs. Lovett. There were moments that were hilarious, but so vile you wonder if you should laugh. I laughed, and frequently. Burton wins again.
Honorable Mentions: The Assassination of Jesse James by the Coward Robert Ford, Hot Fuzz, Knocked Up, No Country For Old Men, Waitress
Stephanie's Top Five of 2007
300GrindhouseHarry Potter and the Order of the PhoenixPirates of the Caribbean: At World's EndSweeney Todd: The Demon Barber of Fleet Street
Teresa's Top Five of 2007
Black Snake MoanEastern PromisesI Am LegendPirates of the Caribbean: At World's EndSweeney Todd: The Demon Barber of Fleet Street