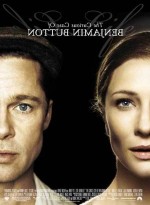 The Man From the Fourth Dimension
2008 // USA // David Fincher // January 23, 2009 // Theatrical Print
B - The Curious Case of Benjamin Button cleaves to the form and tone of an epic fairy tale, albeit one infused with a densely melancholy aura. On the heels of Zodiac, Fincher's masterful police-procedural deconstruction / treatise on existential dissatisfaction, Button perhaps inevitably reads as a lesser work, but it's still a remarkably rich and affecting film, given its gimmicky premise. Certainly, it prominently exhibits the director's fascination with the way significant moments swarm through the human experience. Screenwriter Eric Roth, who penned that satirical-schmaltzy Boomer behemoth, Forrest Gump, has mostly shed his inelegant urge for directionless nostalgia and unwarranted pathos. Roth has more than atoned for Gump with the likes of The Insider and Munich, and Button at least confirms that he can now return to a familiar well with far more intricate and interesting results. Granted, there are ghosts of Gump's grating Hallmark trappings in Button, chiefly a half-hearted noodling with a limp buzzphrase ("You never know what's coming for you"? Meh.) and a determination to march with downcast eyes through a filmic museum of twentieth-century America. However, the comparison also highlights Button's superior qualities: its deft and light approach to the aforementioned historical tour; its fresh-yet-familiar variation on Fincher's dazzling mise-en-scène and tenebrous visual signatures; and chiefly its unexpectedly pointed rejoinder to the hoary notion that youth is wasted on the young.
Fincher spins Benjamin's weird tale—in the pulp magazine sense—within a framing story about a venerable, ailing woman named Daisy (Cate Blanchett, subsumed beneath makeup and digital tweaking). Wasting away in a New Orleans hospice as Hurricane Katrina lashes the city, she urges her adult daughter Caroline (Julia Ormand) to read aloud from a worn diary, which reveals a fantastical secret that runs through Daisy's life. That secret is Benjamin Button (Brad Pitt), born as a decrepit old man and fated to age in reverse throughout his long and eventful life. Benjamin is abandoned by his wealthy father (Jason Flemyng) and raised—conveniently enough—by a caretaker at a nursing home (Taraji P. Henson), where he first meets and is thoroughly thunderstruck by the scarlet-tressed Daisy, grand-daughter of an elderly tenant. Despite their opposite biological trajectories, Benjamin proves to be a constant in Daisy's life: an accepting friend, reluctant object of affection, heartsick suitor, and much more. Fincher and Roth unambiguously stake out their approach: Benjamin Button is a wistful, epic examination of two lives, a progression of snapshots cataloging their intersections and divergences. The credibility of the film's central romance rests almost entirely on Fincher's slow accumulation of a modest affection for his protagonists, rather than the depth of their personalities, which are thinly sketched. Pitt and Blanchett do some of the lifting, particularly when they "meet in the middle" and half a lifetime of thwarted longings and missed opportunities simmer over with visible heat. Mostly, however, the film-makers unfortunately rely on characterization by anecdote, which suits Button's structural aims but proves to be weak tea for the evocation of human texture.
For all its limpness of character and occasional indulgence of pat narrative elements--the sentimentalization of black Southern culture within patently white stories is officially Played Out--Button settles on a consistent mood of wondering sorrow that is remarkably endearing. If the film's occasional moments of inauthenticity elicit recoil, they are more than overcome by the potency of Button's unexpected thematic sophistication. Fincher employs Benjamin's reverse aging cunningly, lending it the character of a tall tale gimmick at the outset, but also permitting his audience the breathing room to ruminate on what such an improbable conceit might reveal. As Button slips across the decades from the Great War to the twenty-first century, Fincher's greasy-gothic fingerprints fade to reveal a cooler, more natural visual design, mirroring the film's transition from idle fantasy speculation to a starker examination of the nature of the fundamental human tragedy. By Button's epilogue, Fincher has rejected the glib notion that Benjamin is more blessed or cursed than the rest of humanity. The lesson scrawled in Benjamin's diary is a painful revelation, one that should be obvious, but proves to be deeply resonant nonetheless: the awful beauty of life lies within its transitory nature, not its direction. It's a theme that emerges gradually from the film's melodramatic fits and starts, from its breath-catching moments of visual splendor, and even from its digressions. Indeed, Button echoes Anderson's Magnolia in its appealing penchant for stylistic and narrative asides that share a thematic kinship with its main storyline. Witness Daisy's tale of a clock that runs backwards, built by a blind craftsman who yearned to rewind the Great War and thereby resurrect his son and legions of other slain young men. Fincher offers the mesmerizing image of a battlefield where violently slain corpses spring up as hale and hearty youths. He thereby poses a discomfiting question: Would Death-Then-Life be a blessed miracle, or a thing just as horrible and senseless as Life-Then-Death?
Button's occasional clumsiness contrasts with the precision that Fincher exhibited in Zodiac. The director missteps structurally by cutting back to the framing story far too frequently, for no apparent purpose other than to confirm that "Old" Blanchett and Ormond are indeed still in the film. When Hurricane Katrina finally arrives at the end of Daisy's story—which, strictly speaking, is mostly Benjamin's story—the effect is underwhelming and the intent hazy, except perhaps to close out the film's recurring water motif by co-opting a recent national tragedy. In contrast to the phenomenal pacing of most of Fincher's works, Button seems somewhat aimless, and its significant length would be less glaring if the film-maker had exhibited some narrative and emotional discipline. None of this detracts from Button's cinematic marvels, which, in keeping with the film's interest in the voodoo of the moment, rest on a foundation of striking, fleeting images and impressions, elegantly woven into the fabric of the narrative. It's these moments that persist, just as they do for Benjamin: the hellish gleam and deafening pop of tracer fire from a German U-boat; a dance of seduction from a radiant twenty-something Daisy, scarlet-clad, barefoot, and framed in moonlight; dead flies in a honey jar, glimpsed in the kitchen of a musty Moscow hotel. Far from suggesting that Benjamin's experiences are a product of his backwards existence, Fincher calls attention to their universality. We all cling to memories of terror, bliss, and banality, flickers of recalled light and sound that collectively make up the infinitely fine grain of life. These moments occur and then vanish, but the sensations and the consequences linger, for such is the miracle and the curse of damnable time.