Richard T. Jameson and Kathleen Murphy at MSN Movies are back with their annual "Moments Out of Time" feature: the "images, lines, gestures, moods" from the films of 2008 that have stuck with them. It's become something of an unofficial tradition for cinema bloggers and commentators to offer up their own moments, so here are mine. Feel free to add, amend, and bicker in comments. 4 Months, 3 Weeks and 2 Days: Otilia (Anamaria Marinca) sits at a cramped, noisy dinner table, but her mind is trapped in a dingy hotel room miles away.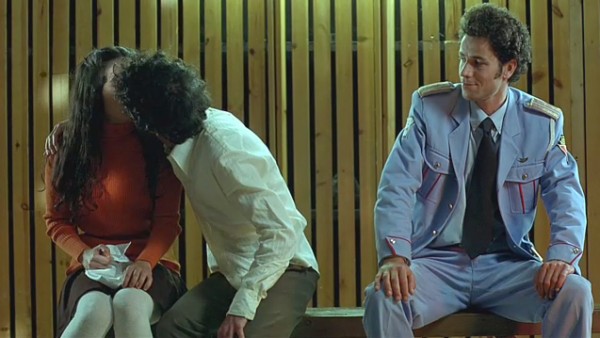 The Band's Visit: In a sad little roller disco, Haled (Saleh Bakri) tutors Papi (Shlomi Avraham) in the rules of romance with a hands-on demonstration.
Bigger, Stronger, Faster*: California Representative Henry Waxman awkwardly admits that he doesn't know the legal drinking age in the United States.
Blind Mountain: Bai (Lu Huang) regards a meat cleaver with smoldering eyes, contemplating its possible role in securing her long-thwarted escape.
Burn After Reading: Osbourne Cox (John Malkovich) spits the insult of the year: "Fuck you, Peck, you're a Mormon. Compared to you we all have a drinking problem."
Chris & Don: A Love Story: Sly, spry 74-year-old Don Bachardy weeps as he recalls sketching his lover Christopher Isherwood in the man's final days.
The Class: For a few heady minutes, the unruly grammar students under the charge of Mr. Marin (François Bégaudeau) gaze admiringly at the photos taken by their classmate Souleymane.
The Curious Case of Benjamin Button: At the end of their inverted biological trajectories, an elderly Daisy (Cate Blanchett) caresses the dying infant that was once her lover.
The Dark Knight: The Joker (Heath Ledger), cackling in a police interrogation room, revels in Batman's (Christian Bale) realization that his impotence is absolute: "You have nothing, nothing to threaten me with!"
Days and Clouds: Michele (Antonio Albanese) runs in a panic from a bungled wallpapering job, shamed at his imcompetence, his cowardice, and the abject failure of his life.
Dear Zachary: A Letter to a Son About His Father: David Bagby confesses his elaborate homicidal fantasies regarding the psychopathic woman who murdered his son.
The Edge of Heaven: As men descend a staircase on their way to mosque, Nejat (Baki Davrak) explains to Susanne (Hanna Schygulla) that he has forgotten the depths of his estranged father's love.
Encounters at the End of the World: A solitary penguin, miles from its nesting ground or the sea, waddles off towards the mountains and certain death.
The Fall: An emotional crescendo as Alexandria (Catinca Untaru) and Roy (Lee Pace) whisper in the language of storytelling: Please don't kill yourself. Why not? Because I love you.
The Flight of the Red Balloon: Suzanne (Juliette Binoche), her life coming apart at the seams, embraces Simon (Simon Iteanu) with boundless love, while Song Fan and a blind piano tuner attend to their work.
Happy-Go-Lucky: On Poppy's (Sally Hawkins) final driving lesson, Scott (Eddie Marsan) loses it, and a torrent of repressed rage, resentment, and desire pours forth.
Hellboy II: The Golden Army: Hellboy (Ron Perlman) and Liz (Selma Blair) wander dumbfounded through a Garden of Eden that has sprung from a slain behemoth's remains.
I Served the King of England: Jan (Oldrich Kaiser) serves milk to a gaggle of nude Teutonic beauties at a Nazi "breeding center".
Iron Man: With his final line, Tony Stark (Robert Downey Jr.), thrusts his superhero alter ego into the sunlight: "I am Iron Man."
The Last Mistress: Wailing over the death of their daughter, Vellini (Asia Argento) couples frantically with Ryno (Fu'ad Ait Aattou) in the Algerian desert.
Let the Right One In: Naked under the covers, Oskar (Kåre Hedebrant) and Eli (Lina Leandersson) gently hold hands.
Man on Wire: Annie Allix chokes up, searching for words as she recalls the sublime beauty of Philippe Petit's performance.
Paranoid Park: Alex (Gabe Nevins) ambles in slump-shouldered slow-motion through the corridors of his high school, cloaked in gray shadow.
Rachel Getting Married: Kym (Anne Hathaway) rambles her way through a self-absorbed, incoherent toast that just keeps getting worse.
Revolutionary Road: April (Kate Winslet), eerily calm, declares, "Fuck who you like, Frank."
Shotgun Stories: Son (Michael Shannon) spits contemptuously on the grave of his father, setting in motion a tragedy that will swallow two families.
Speed Racer: Clinching victory in a race for the ages, Speed Racer (Emile Hirsch) slides the Mach 5 to a halt as its tires melt into puddles of black goo.
Standard Operating Procedure: Flabbergasted, Errol Morris intrudes into his film with a query for Sabrina Harman: "Did any of this seem unusual to you?"
Stranded: I've Come From a Plane That Crashed on the Mountains: Overcome with the enormity of their friends' sacrifice, the survivors of the Andean disaster marvel at the miracle of their own children and grandchildren.
Synecdoche, New York: Olive (Robin Weigert) denies her father Caden (Philip Seymour Hoffman) a deathbed absolution, and an indigo flower petal falls onto a white sheet.
Tropic Thunder: Tugg Speedman (Ben Stiller) realizes with horror exactly what sort of animal he has killed.
Trouble the Water: Kimberly Rivers Roberts, discovering a picture of her mother in her hurricane-ravaged home, hugs it to her chest with a look of pure joy.
Up the Yangtze: After weeks of work on a tourist pleasure boat, "Cindy" Shui Yu can barely conceal her embarrassment as she meets her peasant parents at the docks.
WALL•E: Laboring in the epilogue of human civilization, our robotic hero stacks cubes of refuse into a pollution-stained sky.
Waltz With Bashir: As corpses are carried out, an Israeli soldier mops pools of gore from the inside of his tank.
Wendy and Lucy: Wendy (Michelle Williams), too terrified to move or breathe, listens to the midnight ravings of a derelict.
Wonderful Town: Na (Supphasit Kansen) lays down tentatively on Ton's empty hotel bed and savors the sensation of a budding love.
The Wrestler: Settling into his new position behind the deli counter, Randy (Mickey Rourke) charms and wisecracks his way through the day's customers.